Lt Gen James Mugira commissioned several renovated/new facilities at Luwero Industries Ltd
Micheal Emetu
On 29th August 2023, the Managing Director of the National Enterprise Corporation (NEC), Lt Gen James Mugira commissioned several renovated/new facilities at Luwero Industries Ltd at Nakasongola .
Luwero Industries is one of the Subsidiary Companies of NEC which is the commercial arm of the Ministry of Defence and Veteran Affairs (MoDVA).
Gen Mugira was received at the Luwero Defence Industries by Maj Gen Sabiiti Muzeyi, the General Manager of Luwero Industries.
Gen Mugira and  Prof Sandy Stevens  Tickodri Togboa-the Executive Chairman of Kiira Motors Corporation unveiled the Kayoola Bus Monument which has been erected as a symbol of the cordial collaborative working relationship between Luwero Industries and Kiira Motors Corporation to build Uganda's first fully electric buses- the Kayoola EVs and the Kayoola Diesel Buses.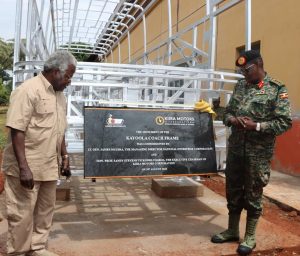 Gen Mugira also commissioned the Gun Repair Workshop, refurbished stores, renovated administration block and the newly constructed guest house.
He was also taken on a guided tour of the spares and maintenance and precision workshops.
Gen Mugira applauded Maj Gen Sabiiti and his team for their hard work and innovative solutions.
Present were senior staff from Luwero Industries.